Above top left, a photo in the next day's Atlanta Journal shows Elton and Gregg meeting in Athens, top right is Robert Nix on stage with ARS. Bottom left, Elton and I, on the right is Gregg and me a year later.
Through Robert, Greg and Ronnie, I've met everyone from The Rolling Stones to Count Basie. Although, being in radio for so long, I met a lot of music greats there too and have interviewed a few hundred of them like Dizzy Gillespie, Chaka Khan, Dionne Warwick, Marvin Gaye, Willie Nelson, Jackson Brown, Isaac Hayes (who for years called me Bobby lee...we miss you) Stevie Wonder, Frankie Vallie, James Brown, Patty LaBelle, Julio Iglesias, Frank Zappa, Sly Stone, Dick Clark, George Benson, Smokey Robinson and so many more, I can't remember them all, but I do remember Luther Vandross. He and I were dear friends and I miss him. It was also fun to interview comedians and actors too like Tom Cruise, Red Foxx, Phyllis Diller, Fay Dunaway, Wayland Flowers and Madam, Chris Atkins, John Davidson and Harrison Ford.
Below top, Red Foxx and I in Dallas. Under that, Phyllis Diller and I on my 33rd birthday. Third down, me a very young, 19 year old Tom Cruise on a long fun night at Limelight. Forth down, Julio Iglesias in my recording studio.
One of the things I used to enjoy the most was introducing people at their concerts, which is one of the perks of being a top rated radio personality. I knew Ike and Tina long before they spit, but was quite honored to introduce Tina Turner in her very first solo concert on the Private Dancer tour in Dallas Texas. Some of the other headliners I've had the pleasure of introducing on stage were Michael Jackson, ZZ Top, Junior Walker and The Allstars, BB King, Led Zeppelin, Eddie Floyd, James Taylor, Roberta Flack, The Beach Boys, Martha Reeves and The Vandellas, Linda Hopkins, Ertha Kitt, Billy Joel, Etta James, J. Giles Band, Sly and The Family Stone, Billy Preston, Prince, Rick James, Carol King, The Temptations, Tommy James and the Shondells, The Four Seasons, The Four Tops and a lot more, but one that I must include was introducing the Sex Pistols at their first ever US appearance. We spent a long and interesting night together. Actually, most of those nights were long and interesting.
One night, I was invited by Earth Wind and Fire's manager, Steven Fargnoli to see a new act he had. It was the first time they had played in public and there was a table for me that I shared with Tim Curry from Rocky Horror. The act was Prince. Tim and I were blown away. I could tell you a lot more great stories, and I may eventually write a book about all the sex, drugs and rock and roll...the working title I have in mind is, "If Balls Could Talk". Like that?
Below, top, It's 1984 and Tina Turner's solo debut with me introducing her at Reunion Arena in Dallas, below that is me with Sid Vicious at their US debut in January of 78. Third picture down, me and the Godfather of Soul, James Brown who I first met at age 18. He was one of the nicest guys you ever wanted to meet...really a very kindhearted man. Next, the King of Pop, Michael Jackson and me in 1981 and under that, another Jackson...Jackson Brown and me around 1977.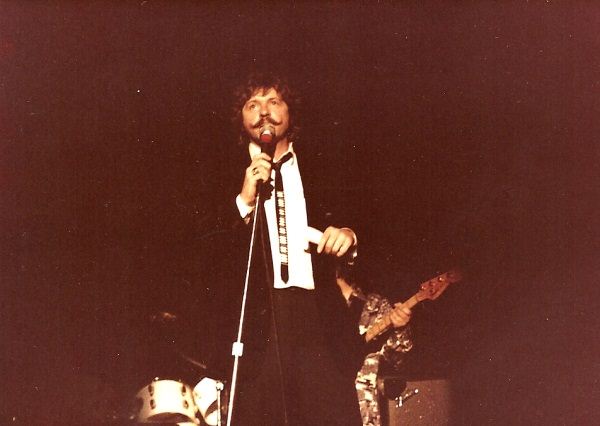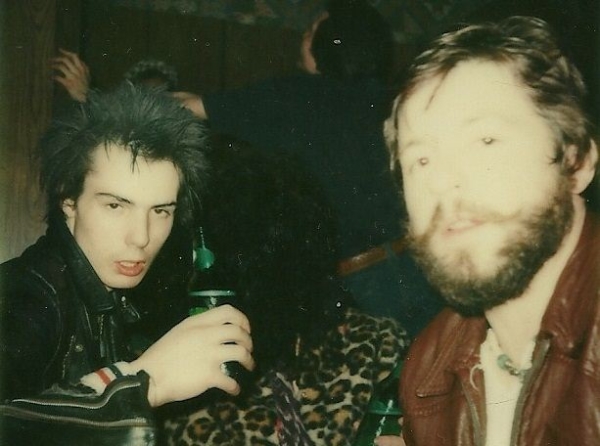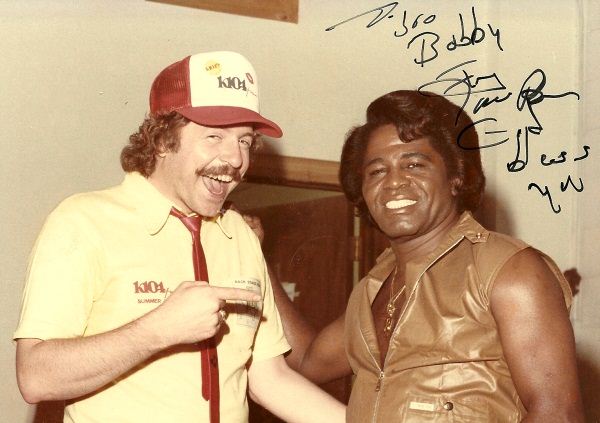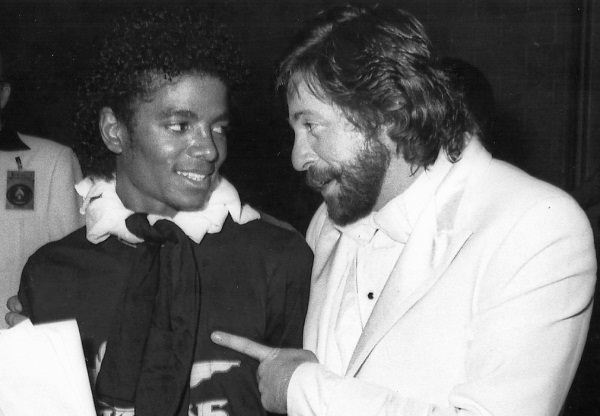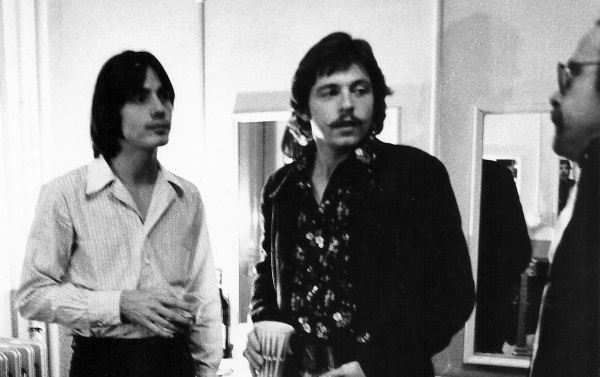 Below, one of the greatest voices ever, The Beach Boys' Carl Wilson and me. Carl sings the lead on 'God Only Knows', a classic and we miss Carl and Dennis Wilson. Below that, my posse, Rick James and company. Third down is the great Smokey Robinson and he's taller than most think.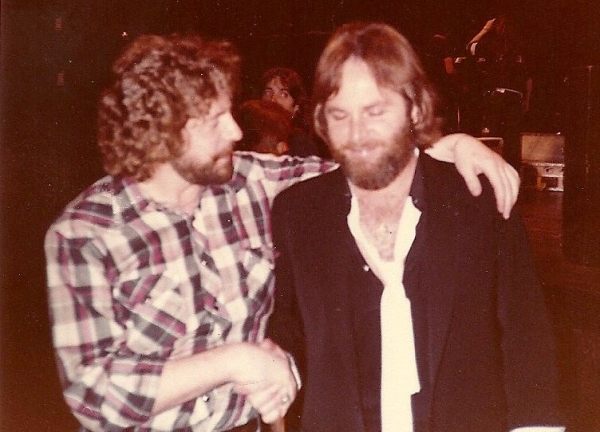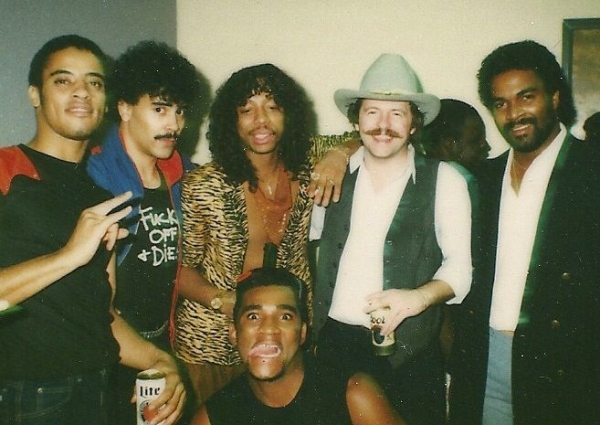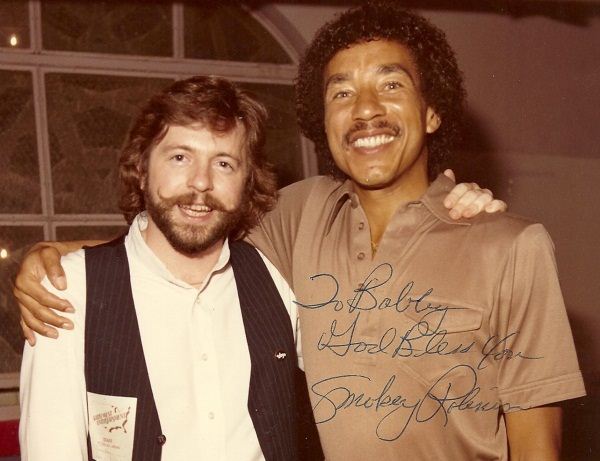 Below, disco down with Randy from the Village People, Alicia Bridges who sang 'I Love The Nightlife' (and we did), me and funnyman Rip Taylor. Robert Nix and I used to call Alicia Bridges 'Loose-ya Britches'. Below that, me and Bo Griffin with about 85,000 of our closest friends on Miami Beach in April of 85. 'Conga' had just come out and we are getting ready to introduce the Miami Sound Machine in their first big concert. Finally, it's half time at the Atlanta Hawks game and I'm the MC for the NBA Champions Award. Next door, just doing fun stuff that disc jockeys do...for some reason, I had been asked to ride an elephant onto the arena stage where I was about to introduce Jennifer Holiday from Dream Girls, 'And I Am Telling You', she was awesome. Jennifer too.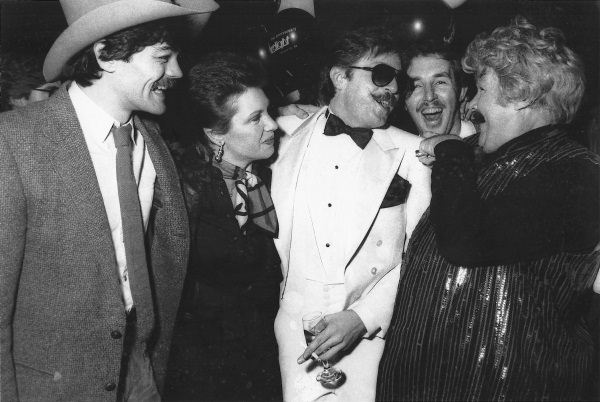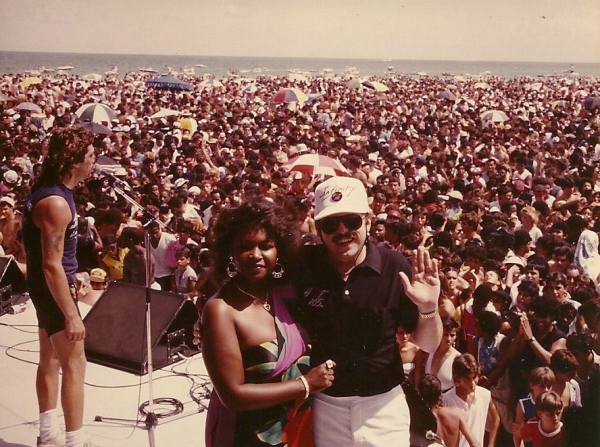 Have I 'dropped' a lot of names here? Well, yes and no. This was my life though. These are the things I did and the people I did them with. Most of us in radio and television could reel off a lot of impressive names we've worked with over the years, but what I hope those names above do is remind you of the great music they made, and the times it reminds you of.
When I think of the TK41 period for instance, I think of Andy Williams and Moon River. Perry Como and Catch A Falling Star and Impossible. I think of the great Broadway songs from Learner and Lowe, Rogers and Hammerstein, Gershwin, Berlin and Johnny Mercer and plays like The King and I, How To Succeed, Oklahoma, The Music Man and movies like Breakfast at Tiffany's, Butterfield Eight and The Longest Day.
I think that's one of the reasons I love these cameras so much. It's not just the cameras...it's the periods. I think the 1950s, '60s and '70s were some of the best times we have ever seen in this country. Innovation was everywhere, everything and everyone was alive and thriving and deep down, I think most people were pretty happy. People were different then...more authentic and real. Not like now.
The cameras take me back there. I had a great childhood and the cameras remind me of it, and here is the big because...because I loved television and the shows it brought me as much as I loved the radio and the music it brought me!
I loved watching Red Skelton and Jackie Gleason with my mother and dad, and later, my little brother. I loved Howdy Doody and cried when Clarabelle finally spoke on the last show and said "Goodbye kids". I loved the Popeye Club, The Three Stooges, Pete Smith Presents, Yogi Bear, Quickdraw McGraw, Huckleberry Hound, Sky King, Roy Rogers, Leave It To Beaver, Ozzy and Harriet, Art Linkletter's House Party, Queen For A Day, I've Got A Secret and just so much more.
I loved Bill Cullen, Gary Moore, Bud Collyer, Walter Cronkite, Chet and David, Bullwinkle. Mitch Miller was a little to square for me, but I loved The Dean Martin Show, Bob Hope, Bonanza on Saturday night and Walt Disney on Sunday nights, Gunsmoke, Have Gun Will Travel, Maverick (I can still sing the theme song), Get Smart, Man From Uncle, Car 54, Arthur Godfrey and of course, Ed Sullivan.
When I think of the Norelco cameras, I think of Carol Burnett, Smothers Brothers, Glenn Campbell and Television City. Good memories.
As I said on the Welcome page, it was only recently that I realized I loved the pictures of the cameras working on these shows almost as much as I love the cameras. The cameras are the special vortex...the special time and place machines that bring the world to me and all of us. Without them, there is no TV. There are tens of millions of television receiver sets, but never more than a few hundred cameras across the nation to originate the images and the stars could not be stars without them.
In the black and white days, there were never more than 50 cameras in New York or Los Angeles and in the early color days, there were even fewer...maybe three dozen on each coast.
In closing, all I can say is that I've tried very hard to put together the very best pictures I can find. I've had a lot of help from a lot of people and thank you all for sharing and visiting Eyes Of A Generation...to me, this is the world's virtual museum of Television, and it's cameras, from the Golden age and beyond.
My grateful thanks to you for visiting. God Bless you.
Bobby Ellerbee